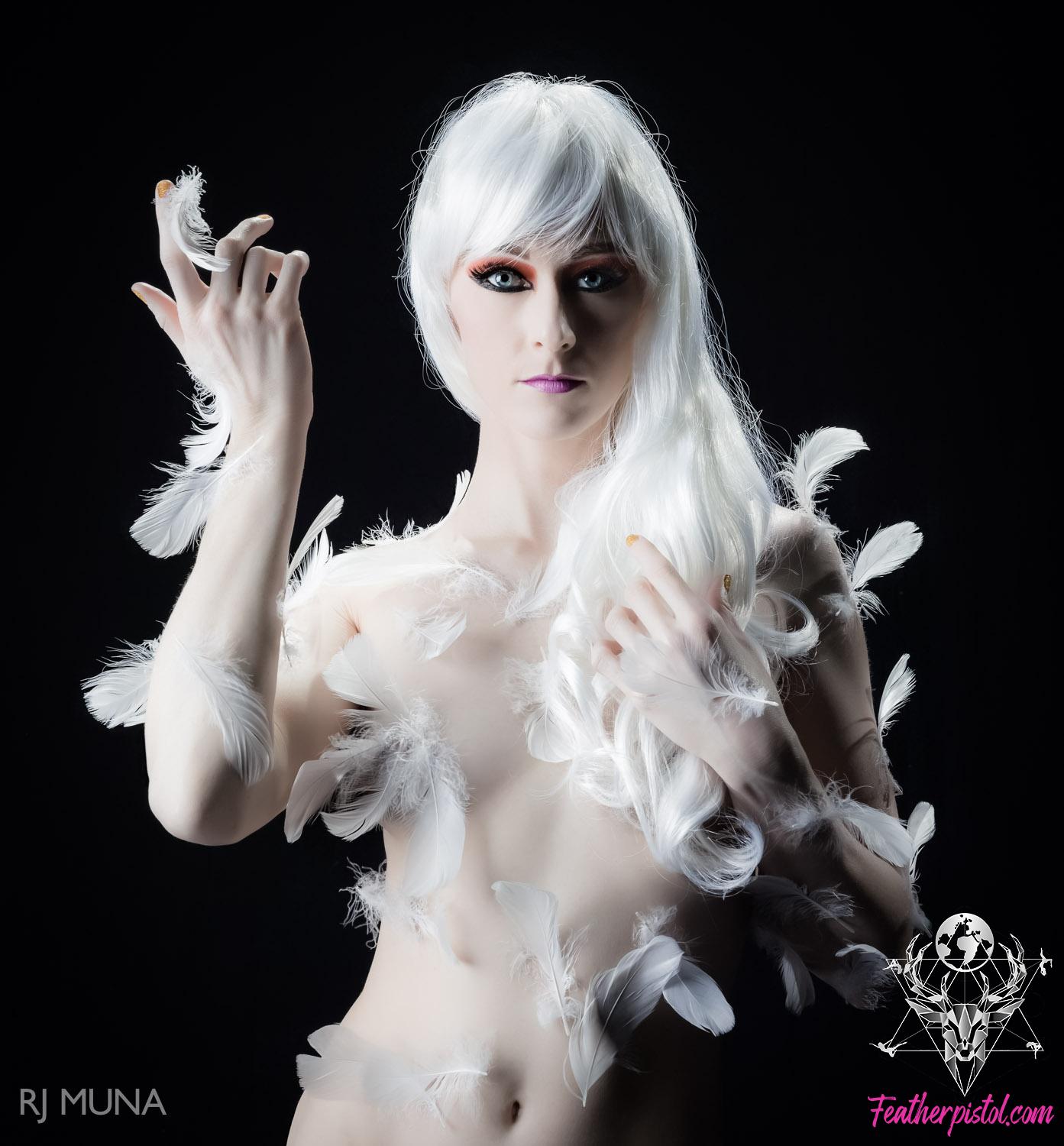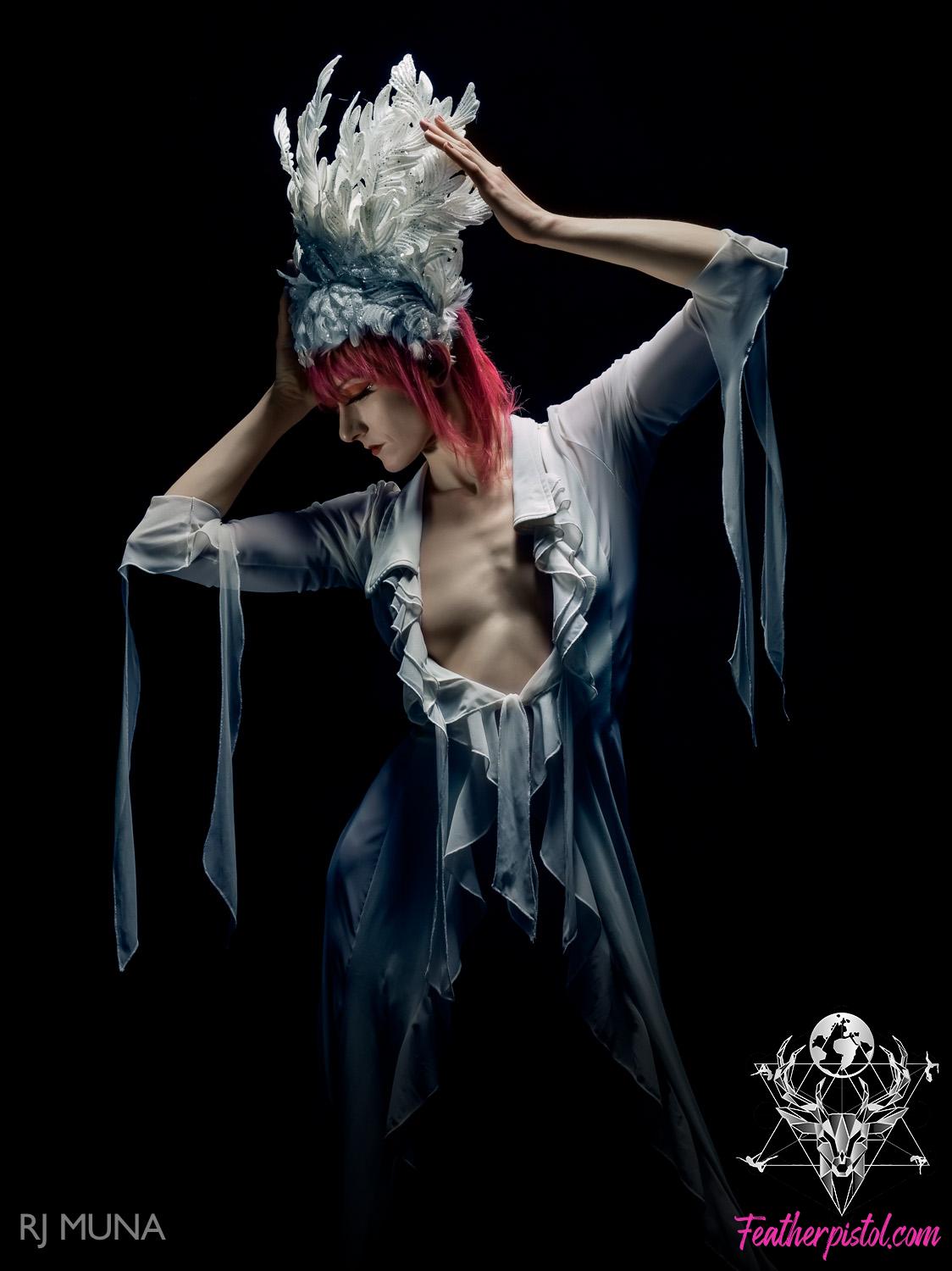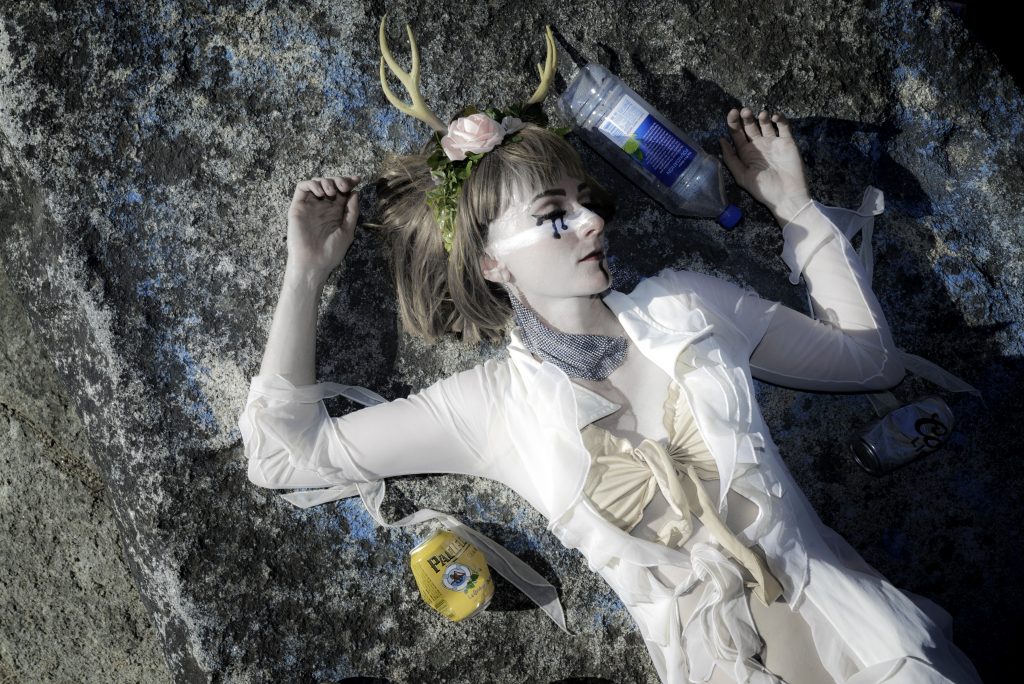 Lauralynn Featherpistol is an earth worshipping pole artist and activist.She grew up a rather awkward, skinny child with acne, braces and glasses in Minnesota;the land of gorgeous, blonde Scandinavians. She found solace in her art classes and the sombre trip-hop music of the 90's.Somehow she made it through high school despite being an outcast.  She graduated 4th in her class of 770.
Craving sunlight like a flower blooming after years of cold winters, she accepted an offer from the University of Southern California as an undergraduate.She studied Art History and Chemistry, hoping to pursue Art Conservation Science.After graduating, she lived in Florence, Italy for a year as a Fulbright Fellow.It was there she made a life-changing decision to pursue the physical arts and leave the world of chemical analysis of artistic pigments.She didn't want to study art through the lens of spectrometry, but rather live and breathe it with all her senses.
She moved back to Los Angeles, became a certified National Academy of Sports Medicine personal trainer, and studied the aerial arts of silks and lyra.She also achieved a black belt in Tiger Crane Kung Fu.When one of her clients bought her an introductory pole lesson at S Factor Dance Studio, fate struck her heart and changed her future forever.She began her pole dance journey in the summer of 2006 and quickly became an Instructor at Sheila Kelley's S Factor.Her pole style opened the world of performance to her and once again her world changed.
"Featherpistol" moved to San Francisco in 2009 – in search of something deeper than what she had seen in the entertainment world thus far.Shortly thereafter she started working with world-renowned acrobatics coach Dominik Wyss at the San Francisco Circus Center.In 2010 she earned a credential as a professional Sound Healer from the California Institute of Integral Studies in San Francisco.After this training she began her extensive touring with Vau de Vire Society, Champagne Productions, DreamWorld Cirque, Velocity Circus, Earth Circus, Entire Productions, and Supperclub International.
"Feather" has travelled the world as a circus pole acrobat, performing in Los Angeles, Las Vegas, Chicago, Portland, New York, San Francisco, Minneapolis, New Orleans and Amsterdam.
She specializes in solo pole performances in a series of personas, each character expressed through a unique combination of makeup, costume and music.Today, she is the proud founder of Pole for the Globe, an online community platform uniting pole dancers across the world in outdoor performances that fight for social justice and environmental causes.Their motto is "We believe in the equality of all bodies and protecting Mother Earth".Currently, Pole for the globe is donating 15% of their proceeds to 9 organizations, and has raised over $3,000.00 since November 2017.
Artist Statement:
Lauralynn Featherpistol didn't always know that pole dance was a ritual pathway to Sound Healing and worshipping the earth.  Today, this sacred truth is woven into her bones, her muscles and her soul.  She has performed for circus audiences of hundreds and the intimate settings of small cabaret clubs all over the world.  Yet she is always guided by the personal, sacred magic between a human being and a dance pole.  Her studies as a Sound Healer strengthened this ethos.  
Featherpistol's work uses the sensuality of pole dance to access ancient frequencies of consciousness. Her style brings circular movement to an often linear world, drawing inspiration from the undulating shapes of sound waves and the sacred rhythms of traditional dance forms.  Yet she also likes to play with her own masculine energy by incorporating acrobatics into her choreography.  It's an important aspect to her work that she displays both extreme femininity and masculinity in the same performance.  By allowing her head and neck to circle around her torso, she is tuning her body and mind and inviting you to join her.  When she circles her torso and hips, she's beckoning the music to enter her cells and transmit their power, and hopes you feel something too.  As she strikes acrobatic poses on the pole, she is harnessing all of her masculinity to hold those lines, and juxtaposing this immutable energy with her feminine forms.  This creates an interval for audiences to access their own response to these movements.   Perhaps they can find a space to feel something they otherwise couldn't access.  
Pole for the Globe/Featherpistol recognizes the ecstatic pleasure of being a body in motion spinning on a central axis.  With this, she has taken pole dancing out of the strip club and has brought it into the light of day as a form of healing, communication with the divine, spiritual time travel, and activism.  When we worship our bodies in this way, we worship the earth.  When we worship the earth, we worship the equality of all species that live on this planet with us.  Welcome to the tribe.