Lately I have been marveling at the good fortune I've had to be able to live and work both in San Francisco and Tahoe.  In fact I just want to climb up onto a mountain and shout "I love you Tahoe!  Thank you for changing my life!!".  Although this post is not a mountaintop, I would still like to say "Thank You Tahoe" for all the performer residencies since 2014 and for bringing me to my love, Dustin, who lives in Meyers.  I'd like to share the incredible journey I've had, and dedicate this post to TAHOE.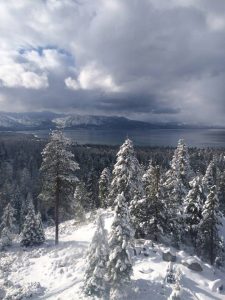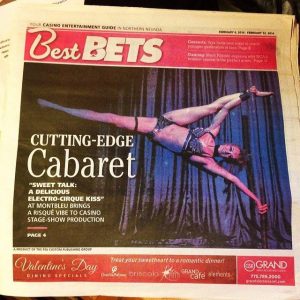 It all started in December 2013 when I got a call from Jessica Broyles of Champagne Productions.  She had found me on my Agent's website in Las Vegas and she asked if I'd like to spend my winter/spring coming to Tahoe for a Specialty Act Residency in the show Sweet Talk at MontBlue.   I decided to go for it and immediately loved the community I found there.  Plus, I was able to live at MontBlue and perform in our shows every weekend from January – April that year.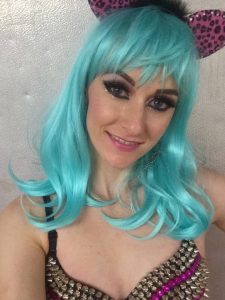 Excited to continue my new relationship with Tahoe, I began another Residency with Champagne Productions performing at blu Nightclub all of summer 2014.  This is also where I met a tall, handsome stranger who is now my boyfriend and love, Dustin <3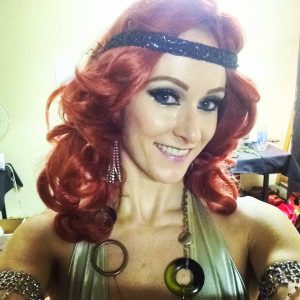 Dustin and I were interested in a relationship right away, so in addition to all my residency shows in Tahoe I started going back and forth on weekends to be with my man.  It was amazing to know that I truly have two homes:  Tahoe and SF.  In the winter of 2014, I began my next Residency as a Heavenly Angel at Tamarack Lodge: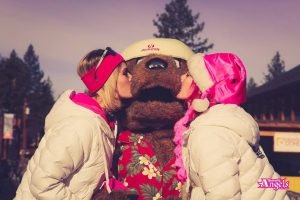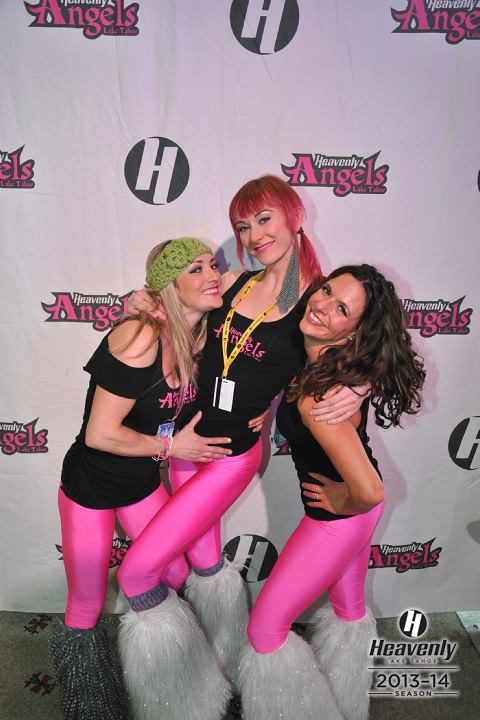 Did I mention I absolutely LOVE being a Heavenly Angel :)))))
In the spring of 2015, Champagne Productions launched another ambitious project and this time it was to entertain once a month at a swanky restaurant in Mammoth Lakes, CA.  I was happy to perform my Specialty Act many times for another great mountain town over the course of that season.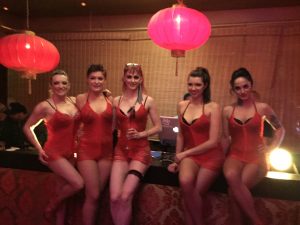 In the summer of 2015, still so infatuated with my new community in Tahoe, I found an opportunity to be a bodypaint model as often as I wanted at Opal Nightclub with Autumn Hall.  Autumn is super talented!!!  I love all the different projects we have done together: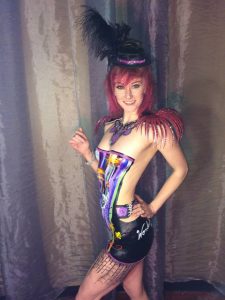 With winter 2015 so came another Residency as a Heavenly Angel.  It's always fun when we do the Mardi Gras theme (I'm the yellow birdie below) and I love coming home to my man after a day on the mountain: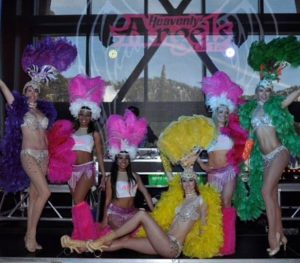 Lastly, I am SO PROUD to say that in the spring of this year, 2016, Champagne Productions launched yet another new show called The Flaming Hearts:  A Rock Revue.  What I love about our crew is that we work hard, we are dedicated, and we create what we love.  We rehearsed our asses off for a few months in Tahoe and Reno and then we were able to perform Flaming Hearts at Harveys Cabaret and Improv.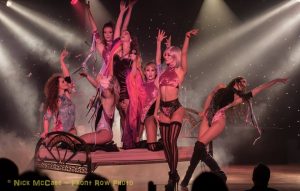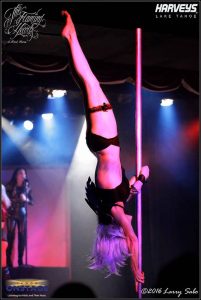 The opening weekend at Harveys is easily my fondest performance memory.  I actually did two different Pole Specialty Acts for this show, with two very different themes and characters.  It was so interesting to perform two different pole pieces in one show!  I had never done that before.  Not only did my man come to both nights of shows, he also brought me flowers, AND 20 of our friends came to see it too.  It was so fun afterwards hugging every one and hearing their congratulations for the show we created!  Never have I ever felt such a sense of belonging and love.  I'm pretty sure I was so happy in the picture below my cheeks were hurting :)))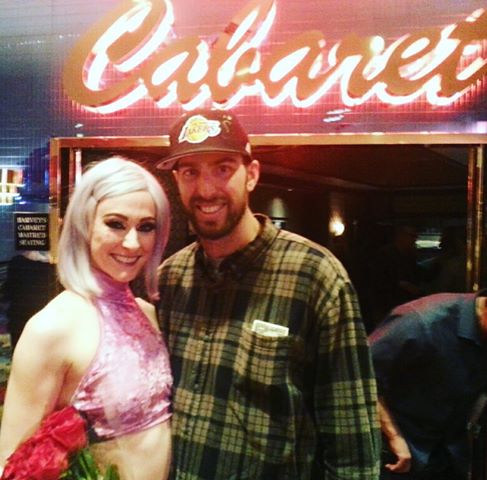 So, at this point in my life I have lived in Minnesota, Los Angeles, Florence Italy, San Francisco, London and Lake Tahoe.  Of all the places I have lived, Tahoe feels the most like home to me.  I'm headed up for another Tahoe weekend with Dustin tomorrow and I'm also meeting my real estate agent for coffee:))  2017 is going to be an incredible year I can feel it….
THANK YOU TAHOE!  I LOVE YOU!  See you Tomorrow  XOXOXOXO FEATHERPISTOL